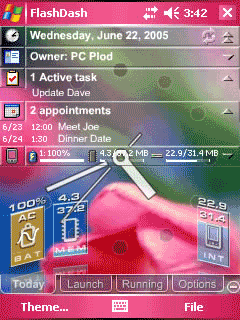 FlashDash™ is a dazzling new Today Screen replacement system for Pocket PC 2002 and Windows Mobile 2003, Windows Mobile 2005 and Windows Mobile 6 Professional devices. It integrates the most popular Today screen features into the desktop of tomorrow, today.
FlashDash will display all of your Pocket PC Themes, Animated Themes and FlashDash Themes on any resolution device. FlashDash incorporates all of the most requested application features into a single application including launcher, task manager, battery and memory viewer, theme manager and lots, lots more all in a beautiful and fully integrated Pocket PC application.
FlashDash is packed with features, including:-
Revolutionary Today screen replacement
Supports Finger, Stylus and Keyboard input
Beautiful Static and Animated Themes
14 day Task and Calendar look ahead
Beautiful Battery, Memory and Storage graphics
Program Launcher with finger control
Integrated Theme Manager with live preview
Running Task Management
Large analogue clock display
Full screen animations with FlashDash Themes
High resolution and Landscape device support
Includes professionaly designed premium themes
Full International support for 12 languages
There has never been a more complete Today screen replacement including all of the most commonly requested Pocket PC features.
FlashDash includes the Bluesteel™ interface designed by TRUTH in Design and co-developed by Gigabyte Solutions Ltd.
FlashDash includes:-
14 professionally designed themes
7 fantastic full-screen FlashDash themes
3 FlashDash plugins
FlashDash is fully internationalized into English, French, German, Italian, Spanish, Dutch, Portuguese, Chinese, Japanese and Korean.
This software is only supported on Windows Mobile 5, 6 and 6.5.  It is not supported on Windows Phone 7 or later.