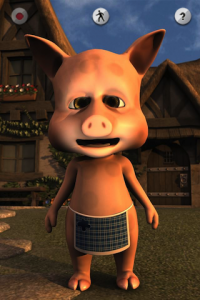 Description
Talking Pig is an adorable virtual pet who you can play with and he will repeat everything you say in a funny voice.
You can poke him, slap him, spin him around or make him dance. Record everything he does and make your own Talking Pig videos to share via Facebook, YouTube or Email.
His expressions and lifelike movements will amaze you and make your friends laugh. Whe making videos every action and sound is recorded for you to share.
***HOW TO PLAY***
Talk to the Talking Pig and he will repeat everything you say with a funny voice
Poke him with your finger to knock him backwards
Slap his face with your finger
Spin him around by swiping his body
Have him perform a little dance for you
Record everything he does to a video and either store it in iTunes or share it via Email, Facebook or YouTube
Just sit and admire his lifelike expressions and movements
Enjoy hours and hours of fun with Annoying Talking Orange. Adults and children alike will love it.
**NOTE**
I listen to you using the inbuilt microphone so will work on all iPhone models but I require a headset containing a microphone  to work on the iPod Touch (2nd generation)