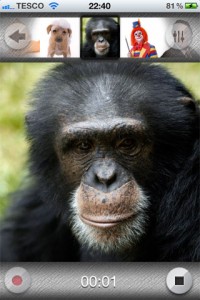 Description
Ever want to create and share your own Parody Movies? Would you like to hear your owbn voice spoken back to you by a cast of funny characters? If you can talk, you can make fun movies with voice effects!
Record your voice and change it with the high quality morphing then use one or more Talking Headz to put on a memorable video show. Create entire movies using multiple Talking Headz and then share them with your friends via Email, YouTube, Facebook or Twitter.
Talking Headz is a fun application that will enable you to:
Record your own voice and have it spoken back to you
Choose one or more Talking Headz to deliver your script
Morph your voice in many unique ways
String clips together to make an entire animated movie
Upload and share movies with your friends and family
While other Talking applications may only come with one talking character, Talking Headz comes with all of these:
Talking Apple
Talking Baby Doll
Talking Bushy
Talking Chimp
Talking Clown
Talking Ginger Tom Cat
Talking Goldfish
Talking Judge
Talking Queenie
Talking Spider
**NOTE**
I listen to you using the inbuilt microphone so will work on all iPhone models but I require a headset containing a microphone  to work on the iPod Touch (2nd generation)
**DISCLAIMER/WARNING**
Talking Headz is a novelty product for entertainment purposes only. Any likenesses to real persons is purely unintentional. Gigabyte Solutions will not be held responsible for inappropiate use of this application.